About YMCA Day Camps
YMCA Summer Day Camps are so much more than fun in the sun!  Our camps are structured around active living and recreation, where each child's interests and individuality can be celebrated.  Campers will enjoy outdoor activities, sports, swimming, and outings into the community, in addition to explorations into the creative arts and sciences.
What is Urban Adventure Day Camp?
It is a traditional summer day camp offering an additional focus on social skills and belonging. Campers will jump into summer through natural outdoor spaces in and around the community in Moose Jaw. With the added experience of developing campers' skills towards confidence, creating new friendships and building resiliency.
Urban Adventure Day Camps are designed for children ages 6-11 years.  Adventures will include activities like canoeing, archery, crafts, and games while matching weekly fun themes:
Register by calling (306)757-9622
Where is Urban Adventure Day Camp?
Pick-up & drop-off will be at 1250 11th Ave NW in Moose Jaw. Campers will also explore spaces in the community throughout their camp week.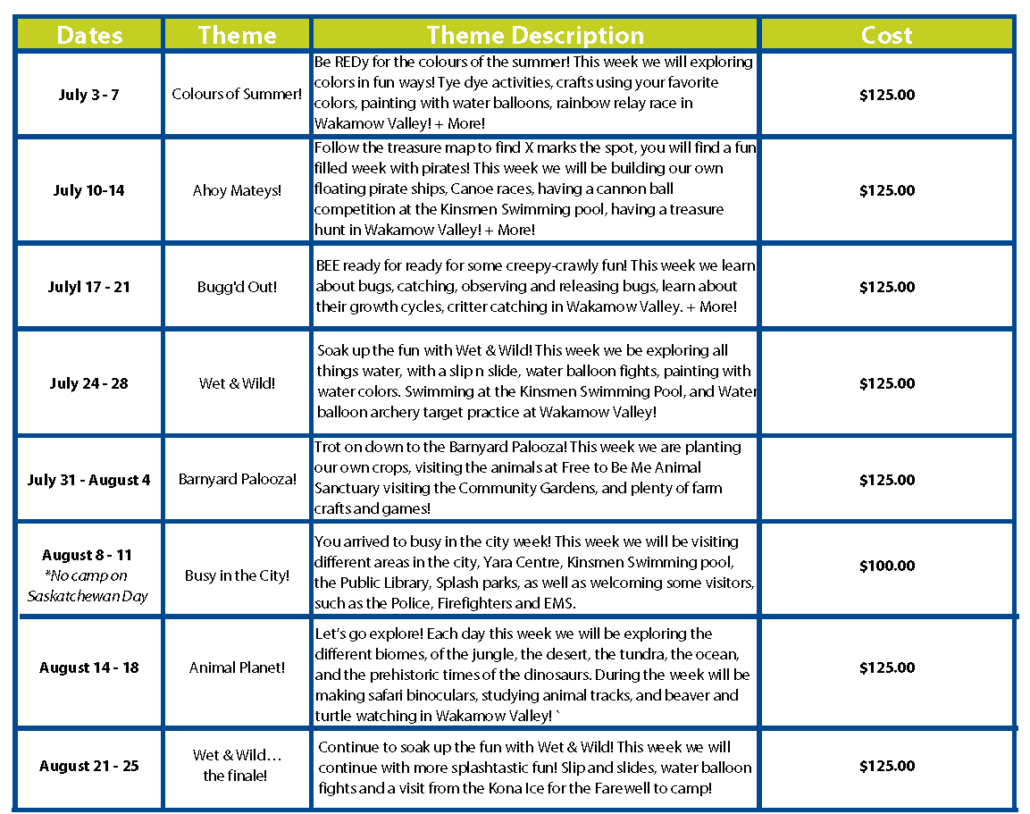 Each week at camp will contain a visit to Wakamow Valley, to participate in archery, canoeing, and exploring the beautiful park, while exploring the theme of the week. Every week will also consist of an afternoon of swimming at the Moose Jaw Kinsmen pool while playing swimming games & activities that match the theme of the week.

"Going to Wakamow was the best part of camp! My favorite was canoeing, archery, and roasting smores, and seeing friends I haven't seen since Pre-K" ~2022 Camp Participant
Thank you to our program partners for their amazing support!